(Aerial Ethereal/Circle is Family #1)
Listening time 13 hours 21 minutes
"Every day," he says lowly, "I hold a person's life in my hands. The circus is based one-hundred percent off trust. I give it all to someone, and they give it all to me."
The best aerial technique won't land 21-year-old Thora James her dream role in Amour—a sexy new acrobatic show on the Vegas strip. Thora knows she's out of her element the second she meets Amour's leading performer. Confident, charming and devilishly captivating, 26-year-old Nikolai Kotova lives up to his nickname as the "God of Russia."
When Thora unknowingly walks into the crosshairs of Nikolai's after-show, her audition process begins way too soon. Unprofessional. That's what Nik calls their "non-existent" relationship. It's not like Thora can avoid him. For one, they may be partners in the future--acrobatic partners, that is. But getting closer to Nik means diving deeper into sin city and into his dizzying world.
Thora wants to perform with him, but when someone like Nikolai attracts the spotlight wherever he goes—Thora fears that she's destined to be just background to his spellbinding show.
This sexy and exhilarating New Adult Romance can best be described as Cirque du Soleil meets the steamy, athletic romance of Center Stage.
*standalone & no love triangles—recommended for readers 18+ for mature content*
I have no idea why I waited so long to read this story, possibly in deference to the famous ones, but this book is as equally as strong - but what would you expect from the authors.
I loved the chemistry between Thora and Nikolai.
I loved Thora's determination to succeed.
And I loved the rest of the Kotova family.
I can't wait to read on. Luka's story is next!

🎪❤️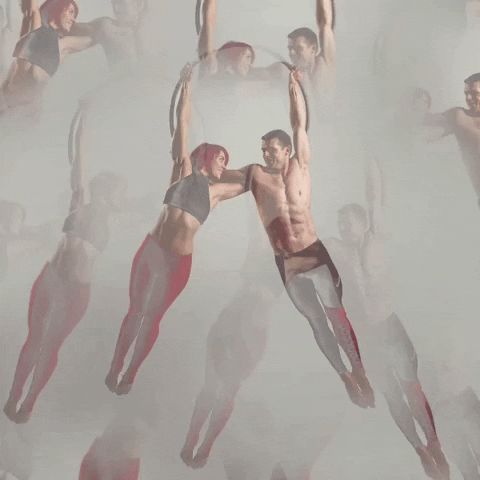 "This was unintentional."
It became something more without noticing. Without realizing. "Am I a mistake—"
"No, myshka. You're just the unexpected, beautiful thing in my life."
"Trust me."
"I don't even know you," I say softly, adrenaline pulsating through my veins. He has led me to the precipice of a cliff, pushed me off, and now he's clasping my wrist. He can let go at any moment, and I will fall.

"Every day," he says lowly, "I hold a person's life in my hands. The circus is based one-hundred percent off trust. I give it all to someone, and they give it all to me. I'm asking you, right now, to trust me."